VPS Hosting
Have a private hosting environment with greater performance and speed.
Managed VPS
Free cPanel License
How our VPS architecture works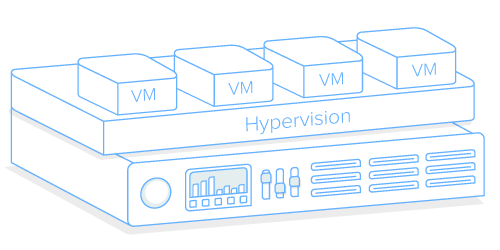 Hardware
Supermicro and Dell servers, Intel E5 processors, RAID 10 SSD with BBU and 96GB of RAM.
Software
KVM technology, great systems for managing VPS servers.
Network
Redundant fiber optic connections and servers connected to 1Gbps ports.
Monitoring
Highly skilled professionals who control the entire virtualization infrastructure 24/7/365.
Why choose our VPS Hosting
Free Management
Do you have no technical knowledge in Linux server administration? Rest assured, HostMedia will grant you basic management for free.
Free Migration
If you already use cPanel/WHM, our team will be able to migrate all your accounts (domains, e-mails and database) at the time that best suits you.
Free cPanel/WHM
Only at HostMedia you get the license for one of the most trusted and used control panels in the world for managing hosting resources.
Free SSL Certificate
Increase your website's credibility, improve search engine ranking and protect yourself with our completely free SSL Certificate by Let's Encrypt.
Full Root Access
In addition to our management, you who have knowledge in Linux command lines, will have full root access for administration and control of the server.
Dedicated IP
In all plans we provide 2 dedicated IPs at no additional cost to your VPS server and all accounts that will be hosted on it.
1-Click Autoinstaller
Install systems through the famous Softaculous, such as: WordPress, Joomla, Magento, OpenCart and others, without complications or endless tutorials.
24/7/365 Monitoring
Have peace of mind in knowing that we have adopted procedures and tools to ensure a virtualization environment is always available.
99.9% Uptime
Our technicians love to keep your website always online if you experience more than 0.1% downtime, you will be compensated.
Freedom to Move
We know how important flexibility is, so here you switch between plans or even a company, without surprises or fines.
Plans
Surprise yourself with the prices of our VPS Hosting!
VPS Hosting FAQs
What is VPS (Virtual Private Server)?
VPS is a virtual environment where resources, capabilities and processes are exclusive for the use of a given website, application or system. Unlike shared hosting where server resources are shared with other accounts, on the VPS Hosting the operating system and settings work independently and flexibly.
Who is a VPS Hosting for?
VPS Hosting are indicated for customers who are looking for an exclusive environment or are growing and need specific features / configurations for deployments on websites and systems, which exceed the predefined limits in our hosting plans.
What advantages do I have in the VPS Hosting?
There are many advantages to migrating from a web hosting plan to a VPS Hosting, some of them are:
Having an exclusive environment at a lower cost than the dedicated server.
Avoid unavailability due to penalties suffered for misuse by other users who share the same shared hosting environment.
Have administrative (root) access to your virtual machine.
Install, change, add, remove systems that meet the needs of your business (for those who have technical skills in Linux servers).
What operating systems are supported?
We currently work with CentOS and CloudLinux.
I have no skill in Linux Servers, do you manage it?
Don't worry! When ordering any VPS plan, basic management is already included for free. But, if you prefer, you can also leave total control of the server in our hands and focus only on your business. For more information access the Managed Server page.
My demand has grown, can I change my VPS plan?
Yes! Get in touch with one of our experts through our sales channels and we will help you find the best plan for this new stage of growth.
Looking for something more powerful?
Increase performance and speed with the exclusive benefits of a powerful and reliable dedicated server for your company.
Go to Dedicated Server