Dedicated Server
Simple. Powerful. Reliable.
Custom Dedicated Servers
Take your business to the next level with HostMedia's Dedicated Servers.
E-commerces,
Portals and Systems
Dedicated Server with exclusive benefits!
All the benefits already included when choosing HostMedia for your Dedicated Server.
Multiple
Data Centers
We have infrastructure in the USA and Brazil of the highest quality standards for you to choose the best location where you want to activate your dedicated server.
Dedicated IP
In all plans we provide 4 dedicated public IPs at no additional cost for your dedicated server.
Full Root Access
In addition to our management, you who have knowledge in Linux command lines, will have full root access for administration and control of the server.
Free Migration
If you already use cPanel/WHM, our team will be able to migrate all your hosting accounts at the time that best suits you.
Free Management
You do not have technical knowledge in Linux server administration? Don't worry, HostMedia will grant you basic management for free.
Free cPanel/WHM
Only at HostMedia you get the license for one of the most used control panels in the world for managing server resources.
24/7/365 Monitoring
Have peace of mind in knowing that we have adopted procedures and tools to ensure an always available hosting environment.
99.9% Uptime
Our technicians love to keep your website always online if you experience more than 0.1% downtime, you will be compensated.
Freedom to Move
We know how important flexibility is, so here you switch between plans or even a company, without surprises or fines.
Data Centers
HostMedia has infrastructure in multiple data centers of the highest standards for you to choose the best location where you want to host your dedicated server.
High Speed Network
Redundant fiber optic connections with major operators, guaranteeing sites hosted on servers with high availability and access speed.
Electricity
Power systems with redundant power supplies, UPS and state-of-the-art generators to ensure continuous power to the racks.
Physical Security
All facilities are protected 24/7/365 by on-site staff, access control, biometrics, camera surveillance and security alarms in all areas.
Air Conditioning
Precision controlled air conditioning systems cool equipment and provide an environment of adequate temperature.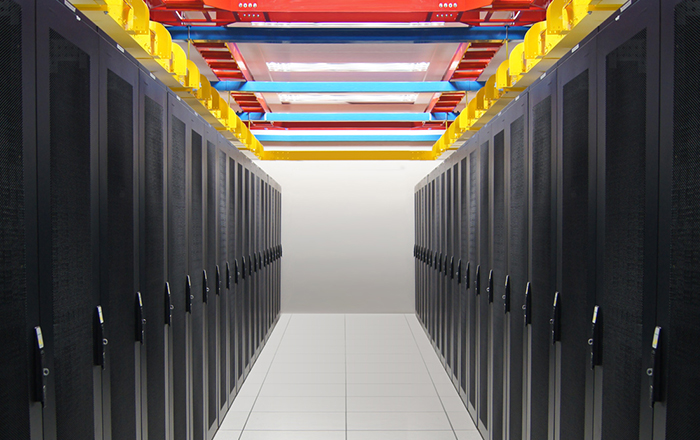 Dedicated Server FAQs
What is a Dedicated Server?
Unlike shared hosting, the dedicated server offers storage and availability of resources exclusively for your website, that is, you do not share resources with anyone, all the technology implemented on this server is geared only to your needs, providing excellent performance and speed for your website, system or application.
What are the advantages of having a Dedicated Server?
In addition to not sharing the dedicated server with anyone, you have at your disposal the best features in the hosting market. Network cards with 1Gbps ports, SATA hard drives and / or SSD, RAID technology, Intel Xeon processors, DDR4 memories and more.
What is RAID and why is it on my server?
RAID (Redundant Array of Independent Disks) is a technology that was designed to improve security and prevent data loss in the event that the hard drive fails, through the use of two or more hard drives. There are different RAID techniques, ranging from RAID 0 to RAID 10, increasing from security to the availability of your website, system or application.
Having this method on your dedicated server means that in the event of an eventual failure of one of the hard disks, your server will continue to function as long as the failure is resolved, preventing a great loss of your information.
HostMedia always warns its customers to periodically make external backups, as we do not know the day or time when a failure may occur in all the hard drives of your machine. Be careful and always have an updated server backup.
Can I manage the Dedicated Server?
Yes, on our dedicated servers you have full root access. If you are an expert on Linux servers feel free to manage the server the way you prefer.
I'm not skilled at managing a Linux server, and now what I do?
We provide free basic management, but you can leave total control of your server in our hands and focus only on your business. For more information, visit the Server Managed page.